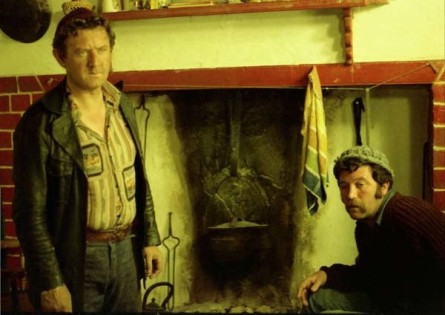 Director: Bob Quinn
Ireland 1978
65 minutes
Cert: 12
The film made in the mid 70s in Conamara was first broadcast on Patrick's Night 1979 on RTÉ. As happened with Synge's, The Playboy of the Western World when first staged, some people found the film "disgraceful and disgusting" in its unromantic portrayal of Conamara in the raw.
The script was written by Colm Bairéad of Carna and the cast includes Cyril Cusack, Niall Tóibín, Dónal Mc Cann, Mick Lally, Macdara Ó Fátharta, Tom Sailí Ó Flaithearta, Mairéad Uí Chuaig and Johnny Chóil Mhaidhc.
The story hinges on the attempt by two scheming rogues to get the better of the Poteen maker. The film is being screened by Clubscannán Sailearna with the kind permission of Bob Quinn and Cinegael.