Films of Revolution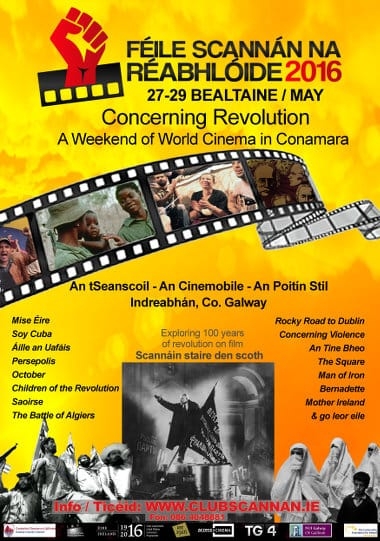 Féile 2016 Poster high resolution4.6 MB
The Gaeltacht based community film organisation Club Scannán Sailearna is holding a film festival in 2016 as part of the 100 year commemorations to mark the 1916 Easter Rising. The festival will take place over three days (27-29 May) in the Seanscoil Theatre, Indreabhán, Co. Galway. Films on the theme of 1916 and the Irish war of independence along with acclaimed films about revolutionary movements around the world will be shown and interspersed with talks and discussion by academics and filmmakers on filmic representations of revolution. The films to be shown include Mise Éire (1959), Áille an Uafáis / A Terrible Beauty (2013), October - Ten Days That Shook the World (1928) and The Battle of Algiers (1966) and the organisers have confirmed the participation of noted film and history experts including Mary Harris, Des Geraghty and Seán Crosson along with filmmakers such as Bob Quinn.
Club Scannán Sailearna is a community film club based at the Seanscoil Theatre, Indreabhán, Co. Galway. Since its foundation in 2007 the club has shown two seasons of world and Irish language cinema annually and has attracted a regular season membership of over sixty people. Special events have included a retrospective of the work of Bob Quinn and a double-bill of 'Films from the Fringe' in partnership with the Cinemobile.
Former Director General of RTÉ and TG4's first Chief Executive Cathal Goan will officially launch the festival, a unique way to mark the 100 year commemoration of the 1916 Easter Rising.
The films scheduled are listed below:
Amharclann na Seanscoile
An Cinemobile
An Poitín Stil
Friday 27 May 2016
20.00
Áille an Uafáis / A Terrible Beauty
Ireland (2013) 92 min.
Persepolis
France (2007) 96 min.
The Square
Egypt (2013) 95 min.
Saturday 28 May 2016
11.00
Man of Iron
Poland (1981) 153 min.
The Revolution Will Not Be Televised
(Chavez: Inside the Coup)
Ireland (2003) 75 min.
Rocky Road to Dublin
(1968) 69 min.
15.00
Mother Ireland
Ireland (1991) 54 min.
Cumann na mBan – Mná na Réabhlóide
Ireland (2015) 53 min.
An Tine Bheo
Ireland (1966) 45 min.
Concerning Violence
Sweden (2014) 78 min.
Caoineadh Airt Uí Laoghaire
Ireland (1975) 52 min.
Splanc Deireadh na Gaeltachta
Ireland (2000) 53 min.
20.00
Mise Éire
Ireland (1959) 85 min.
The Battle of Algiers
Italy / Algeria (1966) 117 min.
FÉACH... 1916... Gaillimh 12 min.
Bású : Liam Mellows 26 min.
Diarmuid Lynch 26 min.
Sunday 29 May 2016
11.00
Bernadette 'Súil Siar ar Aistear Polaitíochta'
Ireland (2011) 87 min.
October – Ten Days That Shook the World
Russia (1928) 142 min.
Saoirse?
Ireland (1961) 90 min.
15.00
Soy Cuba / I am Cuba
Cuba (1964) 108 min.
Eoin Mac Néill: Fear Dearmadta 1916 / The Forgotten Man of 1916
Ireland (2016) 50 min.
Children of the Revolution
Ireland (2010) 92 min.
Further Information on the films, as well as a short trailer will be available on our website www.clubscannan.ie. Enquiries to Dan (087) 8168629 or Donncha (086) 4048881.