(La Tête en Friche)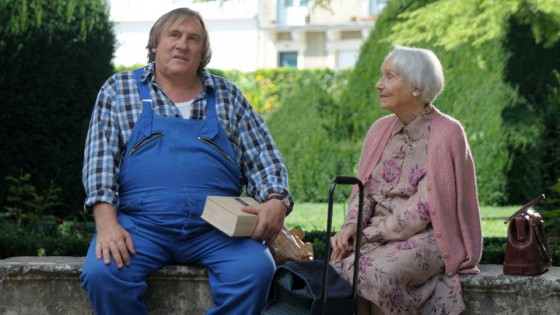 Director: Jean Becker
France 2010
82 minutes
Cert: 15A
S
mall but perfectly formed, this unassuming French comedy is smart, emotionally engaging and often very funny. Essentially a coming-of-age story about a seemingly dopey middle-aged man, it's also a real charmer.
For his whole life, Germain (Depardieu) has been told by his drama-queen mother (Maurier) that he's an idiot. So he has lived up to her expectations. But neighbours in his village loves his kind but bumbling ways. He spends each day at a cafe owned by his friend Francine (Maurane), getting involved in everyone's business. His bus-driver girlfriend (Guillemin) sees his better qualities, and so does Margueritte (Casadesus), a 95-year-old he meets in the park who, while reading books with him, quietly helps him see who he really is.
In many ways the film feels like a refreshing slap in the face, jolting us out of the hypnosis induced by bland Hollywood movies. The film simply feels alive to the possibilities around it, unafraid to be cute or heartbreakingly sweet but never becoming remotely sentimental. Filmmaker Becker clearly knows that life is made up of moments that are hilarious and earthy and sometimes painful. And that sometimes it's the difficult things that teach us the most.