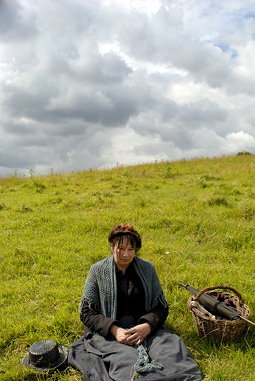 Dir: Martin Provost
France 2008
125 minutes
Cert: PG
Making a film about the life of an artist is a risky proposition. The paint box arrives full of clichés and unexamined assumptions about the creative temperament, and these grow more assertive if mental illness is part of the biographical material. You are likely to end up with a lot of huffing and puffing and mystification, rather than any real insight into the mysteries of the work.
There are exceptions. Here, Provost makes the case that Séraphine de Senlis was a visionary. That is not what the other residents of Senlis would have said. Making a meager living as a housekeeper and laundress, Séraphine (Yolande Moreau) is, when we first encounter her, an eccentric and slightly pathetic local character, a figure of pity and sometimes mockery, her dignity protected by a temperament that is at once sharp and childlike, and by a talent that she views as guided by angels.
The mystery of Séraphine de Senlis — who died in a mental hospital in 1942 and whose work survives in some of the world's leading museums — is left intact at the end of Séraphine. Rather than trying to explain Séraphine, the film accepts her.
A. Scott, The New York Times