(Micmacs à tire-larigot)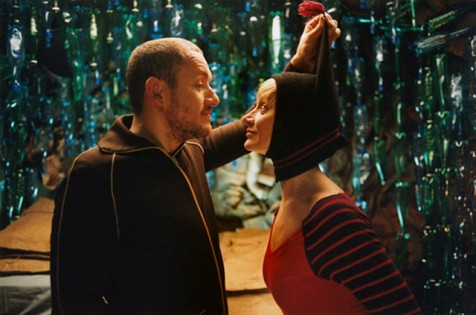 Dir: Jean-Pierre Jeunet
France 2009
105 minutes
Cert: 15A
At his father's funeral, young Bazil (Dany Boon) is given a box of personal effects that include bits of the landmine that killed his dad. Years later, in the street one day, the grown-up Bazil recognises the logo of the company that made the landmine. Coincidentally, it's the same company that manufactured the stray bullet that accidentally shot him in the head as he was standing in the door of his video-rentals shop, reciting the dialogue of The Big Sleep. The bullet has remained inoperably embedded in his skull and could still kill him at any moment. He resolves to take his revenge on the arms dealers whose products totalled his old man and speared his cerebellum.
Bazil and his band of brothers mimic the conventions of filmic superheroes to find and outwit the arms dealers. They each have useful powers, but their ensemble scenes are played for laughs rather than logic. At an airport, they employ African robes, salami, a razor and a suitcase with a secret trapdoor to have an African dictator's henchman framed for drugs. You get the idea.
Jeunet is a master of comic-strip filming, the kind we associate with the Coen brothers of Raising Arizona or The Big Lebowski. Nobody beats him for sheer comic inventiveness and the speed with which he whips ideas into crazy reality. It's a crazy Gallic ride.
John Walsh, The Independent