Season of World Cinema announced for Seanscoil Sailearna, Indreabhán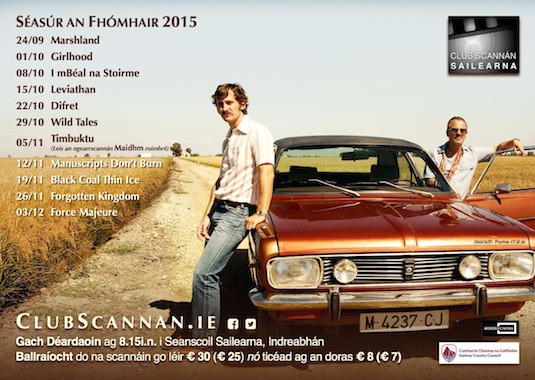 A new season of film will commence in Seanscoil Sailearna, Indreabhán on Thursday, the 24th September with Marshland, a highly acclaimed new film from Spain.
Each Thursday evening, between now and Christmas, a total of 11 films picked from the best of world cinema, from various countries in various languages, will be shown with English subtitles. Seanscoil Sailearna is a wonderful venue: big screen, tiered comfortable seating and great sound system.
The film season is organised by local film club, Club Scannán Sailearna, in association with Access Cinema and with the assistance this year of a small grant from Galway County Council for the first time.
Membership in the Club Scannán can be obtained at the beginning of the season for € 30 (€ 25), which covers the full season of 11 films, or the alternative is to pay at the door € 8 (€ 7) per film, if you should prefer.
The films scheduled for the Autumn Season are listed below:
Further Information on the films, as well as a short trailer will be available on our website clubscannan.ie. Enquiries to Dan (087) 8168629 or Donncha (086) 4048881.
Club Scannan Autumn Season 2015 Poster high resolution8.8 MB