Season of World Cinema announced for Seanscoil Sailearna, Indreabhán
Important notice (18/03/2020)
In light of the current challenges related to the coronavirus the film club committee has decided to cancel the rest of the Spring Season 2020. We hope to be back with a new season as usual in the autumn. In the meantime let us look after one another and we appreciate your patience and understanding.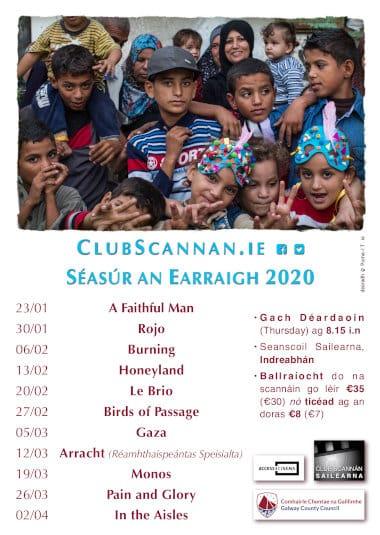 Club Scannán Sailearna are pleased to announce another wonderful season of World Cinema to be shown in Seanscoil Sailearna, Indreabhán.
Every Thursday evening throughout the season the best films from around the world are shown in their native languages with English subtitles. Seanscoil Sailearna is a wonderful venue with a large cinema screen, comfortable tiered seating and a great sound system.
Each film season is organised by local film club, Club Scannán Sailearna, in association with Access Cinema and with the assistance of Galway County Council.
Membership in the Club costs € 35 (€ 30), and covers the full season of films, or if you prefer you can pay € 8 (€ 7) for any single film.
The films scheduled for the current season are listed below:
23 January: A Faithful Man (France 2018)
30 January: Rojo (Argentina, Brazil 2018)
06 February: Burning (South Korea 2018)
13 February: Honeyland (Republic of Macedonia 2019)
20 February: Le Brio (France 2017)
27 February: Birds of Passage (Colombia, Mexico 2018)
05 March: Gaza (Éire, Palestine 2019)
12 March: Arracht (Éire, 2019) [Special Preview]

19 March: Monos (Colombia, Argentina 2019)
26 March: Pain and Glory (Spain 2019)
02 April: In the Aisles (Germany 2018)
As usual film commences at 8.15pm, in the Seanscoil, Indreabhán, on Thursday evening, January 23rd.
Club Scannan Spring Season 2020 Poster high resolution6.6 MB