New Season of World Cinema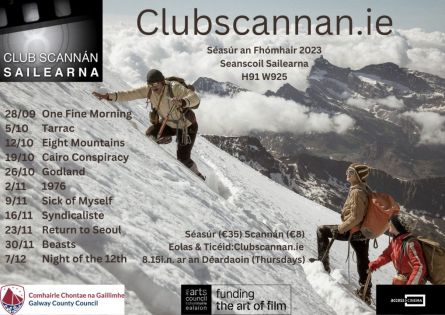 Club Scannán Sailearna are delighted to present another wonderful season of world cinema in Seanscoil Sailearna, Indreabhán.
Each film commences at 8.15pm, starting with the wonderful One Fine Morning on Thursday, September 28th.
Come and watch critically acclaimed films from around the world in their native languages with English subtitles every Thursday evening throughout the season. Seanscoil Sailearna is a wonderful venue with a large cinema screen, comfortable tiered seating and a great sound system.
Membership for the full season only costs €35, but if you prefer you can pay €8 for a single film. The full range of tickets can be purchased here: https://www.clubscannan.ie/en/tickets
Each film season is organised by local film club, Club Scannán Sailearna, in association with Access Cinema and with the assistance of Galway County Council.
The films scheduled for the current season are listed below:
28 September: One Fine Morning
05 October: Tarrac
12 October: Eight Mountains
19 October: Cairo Conspiracy
26 October: Godland
02 November: 1976
09 November: Sick of Myself
16 November: Syndicaliste
23 November: Return to Seoul
30 November: Beasts
07 December: Night of the 12th
Club Scannan Autumn Season 2023 Poster high resolution5.65 MB