Season of World Cinema announced for Seanscoil Sailearna, Indreabhán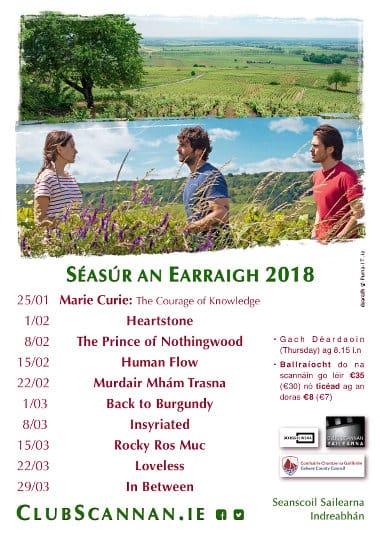 Club Scannán Sailearna are pleased to announce another wonderful season of World Cinema to be shown in Seanscoil Sailearna, Indreabhán.
Every Thursday evening throughout the season the best films from around the world are shown in their native languages with English subtitles. Seanscoil Sailearna is a wonderful venue with a large cinema screen, comfortable tiered seating and a great sound system.
Each film season is organised by local film club, Club Scannán Sailearna, in association with Access Cinema and with the assistance of Galway County Council.
Membership in the Club costs € 35 (€ 30), and covers the full season of films, or if you prefer you can pay € 8 (€ 7) for any single film.
The films scheduled for the current season are listed below:
25 January: Marie Curie: The Courage of Knowledge (Poland, France, Germany 2016)
01 February: Heartstone (Iceland, Denmark 2016)
08 February: The Prince of Nothingwood (France, Germany 2017)
15 February: Human Flow (Germany 2017)
22 February: Murdair Mhám Trasna (Éire 2017)
01 March: Back to Burgundy (France 2016)
08 March: Insyriated (Belgium 2016)
15 March: Rocky Ros Muc (Éire 2017)
22 March: Loveless (Russia 2017)
29 March: In Between (Israel, France 2016)
05 April: Back to Burgundy (France 2016)
Club Scannan Spring Season 2018 Poster high resolution9.0 MB
Due to the recent bad weather the film Back To Burgundy was postponed (01/03). It will now be shown on 5 April at 8.15pm.