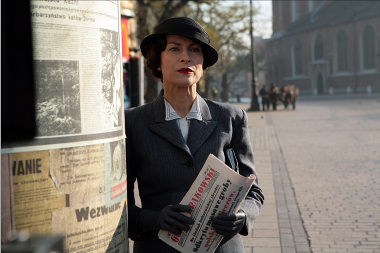 Dir: Andrzej Wajda
Poland 2007
121 minutes - Cert: 15A
A towering presence in the world of post-World War II cinema, Andrzej Wajda has spent his career analysing in great detail Poland's gradual social and political evolution with a considerable amount of sensitivity while maintaining an uncompromising attitude towards his complex subjects. Famous for drawing inspiration from Poland's history, he has created a magnificent oeuvre of work that devastates even as it informs. Presented with an honourary Oscar in 2000 for his contributions to world cinema, Wajda himself is the son of a Polish cavalry officer who was murdered by the Soviets in what is known as the Katyn massacre – the subject of Katyn his latest and typically unflinching work.
After Nazi Germany's invasion of Poland and following Joseph Stalin's order, on September 17, 1939, all Polish Officers found themselves in Soviet slavery. Anna, the wife of an Uhlan Regiment captain is waiting for her man, and receives with disbelief all obvious evidence of his having been murdered by the Russians. The wife of a general, in April 1943, learns of her husband's death after the Germans discovered mass graves of Polish officers in the Katyn Forest.
What is the life of women, waiting for their beloved in the Polish state after the war going to look like, they being still dependent on Soviet Russia? Will homeland and freedom still retain the same meaning for those who have accepted the new system? This latest offering from one of Europe's greatest directors is a powerful work, forcing audiences to acknowledge the sheer scale of brutality meted out and the grievous consequences for the families affected. - Colm McAuliffe, Jameson Dublin International Film Festival 2008